The Appvion team is proud to earn the gold medal rating from EcoVadis for our sustainability management system for the second year. This achievement places Appvion in the 96th percentile in our industry and among the best companies rated by the international rating agency. Participating in the EcoVadis assessment recognizes our commitment to making continuous improvements in integrating sustainability across our company and provides our customers with an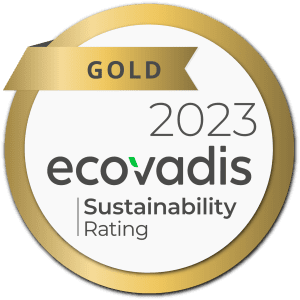 independent assessment of Appvion as a sustainable partner.
EcoVadis evaluates across 200 industries and 175 countries on behalf of 90,000 rated companies. The Ecovadis sustainability assessment evaluates how well a company has integrated sustainability and corporate social responsibility principles across four themes: Environment, Labor & Human Rights, Ethics, and Sustainable Procurement, and is highly valued and taken into consideration by customers. Additionally, the scores provide guidance on improvement areas to focus its sustainability efforts and improve its sustainability performance.
Appvion has participated in EcoVadis since 2016 and continues to seek opportunities to align and evolve what we do as a sustainability-led business working to fulfill our purpose. The gold medal assessment is largely attributed to our improvements in safety performance, commitment to reducing greenhouse gas emissions, minimizing waste, and accelerating the development of sustainably advantaged products.
We remain steadfast in our adherence to corporate governance and ethics and implement policies and procedures geared toward building a healthier planet. Although we celebrate this recognition, our work in sustainability is never complete to maintain the utmost standards in our daily operations – now and in the future.
To learn more about Appvion's sustainability commitments, please refer to our 2022 Sustainability Report.